DISTRIBUTORS AND INSTALLERS OF MACROAIR FANS AUSTRALIA & NEW ZEALAND
As certified MacroAir technicians, we can supply and install big fans for INDUSTRIAL, COMMERCIAL or RESIDENTIAL uses. We provide the best advice and expert customer service.
What is HVLS?
An HVLS fan is a large ceiling fan that moves a High Volume of air at a Low Speed. The low speed delivers gentle air movement rather than disruptive wind, and circulating a high volume of air that effectively distributes airflow over a large area.
HVLS Fans Benefits
Improved effectiveness of heating & cooling
Lower costs of heating/cooling
Improved comfort of environment
Lower power bills as air conditions run at higher temperatures.
The Best Applications for HVLS fans
Where to Install?
MacroAir's high volume, low speed (HVLS) fans are the best solution for airflow and ventilation. By concentrating air to travel straight down and then disperse when it hits the floor, the long slow-moving blades ensure precise and controlled air movement. No matter what application you're looking to cool, the benefits of an HVLS fan manifest well in terms of comfort and cost savings.
LEADING THE PROFAN TEAM
Who Are We?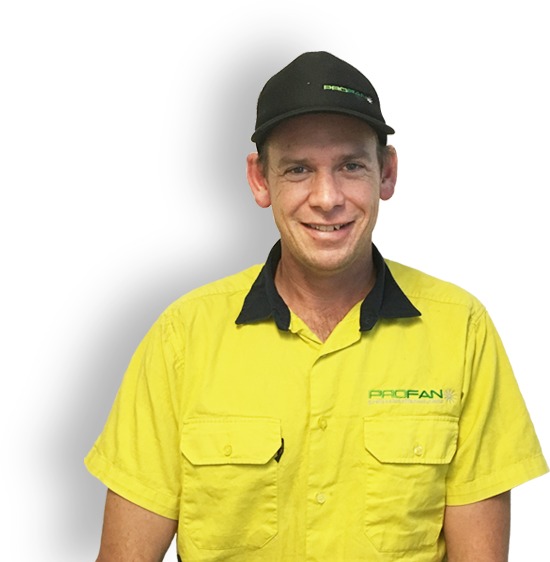 BEN CUTMORE
Director
With a passion for problem-solving and the ability to think outside the square, Ben started Professional Fan Solutions to give customers the quality installation they deserve.
With a mechanical trade background and a history of project management, Ben travelled to the US to complete training on the effective installation of HVLS fans. With hundreds of installations Australia wide, he has the experience to get your job done.
TIM BOXWELL
Electrician
With experience in a variety of domestic, commercial and industrial installations, Tim applies his knowledge of the Australian Electrical Standards, to ensure you get the safest and most efficient installation possible.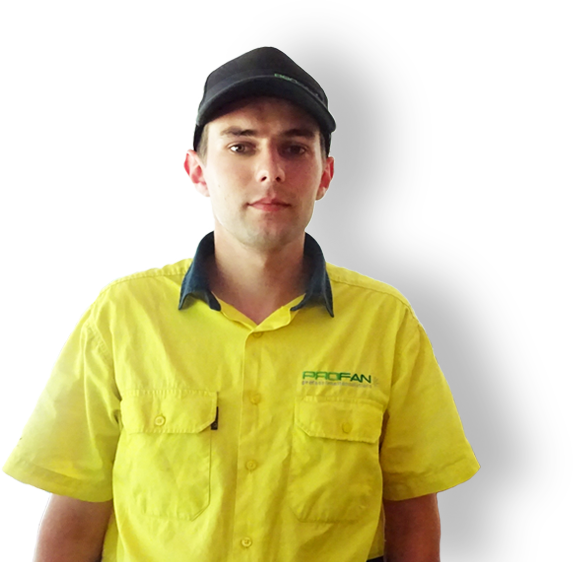 You are our top priority and we'd like to ensure that you receive the highest quality of service every step of the way.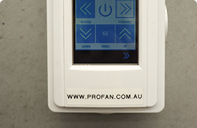 1. CONNECT
Do you have a space that needs ventilation solution? Give us a call and we will be happy to discuss your needs.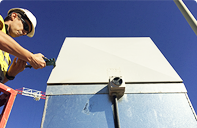 2. INVITE US
In order to provide you with a solution that meets your specific needs, invite us to inspect your facility. We will then use our experience and expertise to advise you on the most efficient and cost effective solution.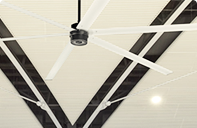 3. BUY A FAN
We supply and install MacroAir fans – the most technically advanced and efficient HVLS Fans in the world. They back up this claim with a 50,000-hour operating warranty. We are proud to install such a high-quality product.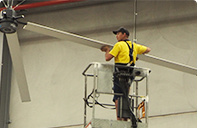 4. WE INSTALL
We project manage the whole installation from start to finish. From the smallest facility to the largest factory, we will complete the installation to the highest quality standards.
5. SERVICE AND
MAINTENANCE
PROFAN works with you in an ongoing basis to ensure your investment continues to work safely and efficiently for many years to come.

What Our Clients Say
I have known Ben Cutmore for the past 6 years. He has worked for me on a contract basis installing and maintaining ventilation systems in the apartment buildings that I manage.
I have found Ben to be reliable, efficient and personable. He delivers good quality work and finds solutions where there is a problem. I intend to continue working with Ben and have no problem recommending him to anyone who is in need of fan or ventilation services.
– FERNANDO ABIRAAD, Facility & Asset Optimiser, CiServices