AT A GLANCE
8-18 foot diameter
128-172 pounds
1.05 hoursepower
51.6 foot-pounds of torque
UL Certified*
The Macroair's AirVolution-D 550 HVLS fan is a part workhorse and a part racehorse. This premium fan houses industrial power within its sleek design, providing the ideal solution for climate problems in your mid-sized spaces. Its AirBrain processor adapts to your building's input voltage, generates and seamlessly resets fault codes, and integrates into building automation systems. If the 550 is struck by an object, shaken by an earthquake, or bombarded by high winds, the fan will detect the disruption and turn off.
PRIMARY
APPLICATION:
Medium – Large Spaces
Auto-Shops
Gymnasiums
Agricultural Applications
Dairy Farms
Equine Facilities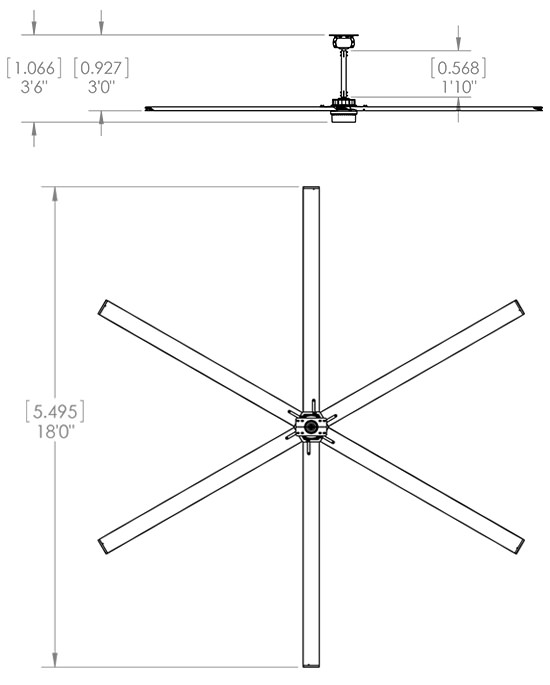 FEATURES & BENEFITS
DIRECT-DRIVE (NO GEARBOX)
Quiet, zero maintenance, lighter, leak-proof
Digital Remote
Adjust fan speed and direction, upload firmware updates, troubleshoot issues, view hours of operation
IP65 Rating
Safely wash-down your fan or mount in outdoor environments (potential rain exposure)
This fan looks cool to me.
IKEA
IKEA would like to find a great way to save on operating costs by reducing the cost of heating and cooling its space while reducing CO2 emissions.
SEE THE MACROAIR
DIFFERENCE
Great savings, more efficiency with direct drive technology. Get a side-by-side fan specification comparison between the leading Macroair and other conventional HVLS fans.

MacroAir's AirVolution-D Wins Product of the Year Award
MacroAir's AirVolution-D brought home the Consulting-Specifying Engineer's 2015 Product of the Year silver award in the air movement category.
Consulting-Specifying Engineer asked companies to submit their new and improved products, and readers voted. Thank you to everyone who voted for our re-invented HVLS direct-drive fan!