AGRICULTURE INDUSTRY BIG FANS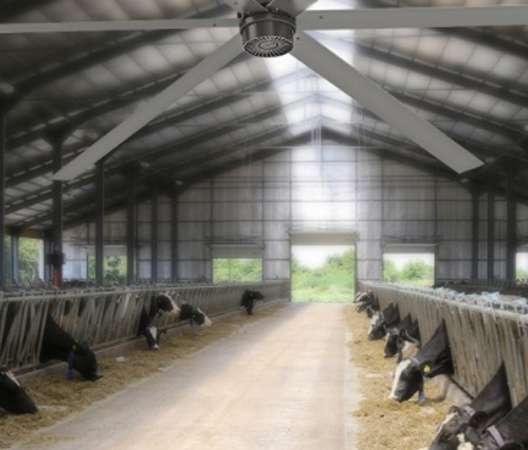 DAIRY BARN FANS
Get more milk with cooler air
DAIRY BARN FANS
Dairy Darling
Overheated cows are less productive. Improve cow comfort and milk supplies with the MacroAir AirVolution-D 700 Series HVLS fan.
This energy-efficient industrial fan keeps cows cool by moving air more efficiently through barns and open-air sheds while keeping pesky bugs, birds and dust under control. Operating at just pennies a day, it's also whisper-quiet, maintenance-free, and is backed by The 50,000-hour warranty.
For blissful bovines, tap into the cooling comfort of MacroAir AirVolution-D.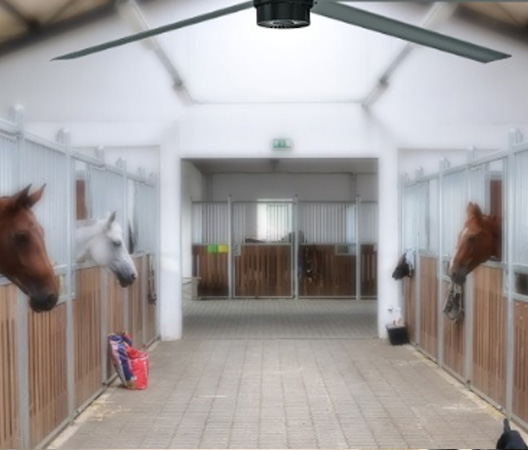 EQUINE BARN FANS
Ride high with better air quality
EQUINE BARN FANS
Harnessed Control
Stagnant air can lead to uncomfortable, unhealthy horses. A MacroAir AirVolution-D 500 Series fan increases air movement to prevent respiratory infections caused by drafty conditions and poor air quality in barns, riding arenas, training centers and show facilities.
Delivering 50% more horsepower than other fans, the powerful yet quiet AirVolution-D gently circulates large amounts of fresh air to keep horses, owners, trainers and spectators comfortable. It's also maintenance-free, designed to last for 50,000 hours, and costs only $1 a day to run.
With the unprecedented performance and efficiency of MacroAir AirVolution-D, you can ride high.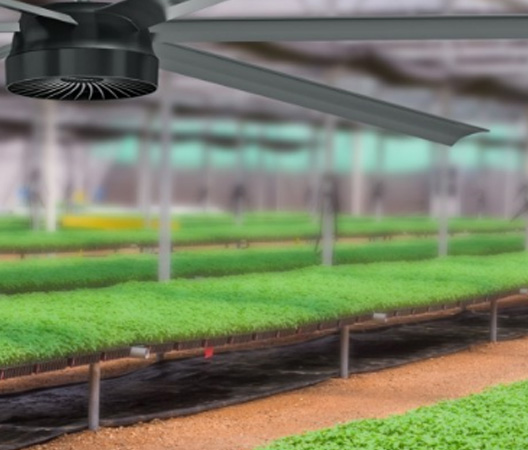 PRODUCE FANS
Reduce spoilage with fresher air
PRODUCE FANS
Fresh Air
Produce can quickly spoil in environments that are too warm. Keep your fruits and vegetables fresh and healthy with a MacroAir AirVolution-D 700 Series Fan.
This energy-efficient industrial ceiling fan distributes large amounts of air powerfully yet gently to maintain consistent temperatures that prolong produce life. It also runs quietly, requires no maintenance, and blends in beautifully with your store decor.
For fresher produce, reduced spoilage, and lower cooling and heating costs, a MacroAir AirVolution-D Fan is a smart investment.
WINERY FANS
Control climate for better vintages
WINERY FANS
Micro Climate
Creating exceptional wine requires strict environmental control. Even a slight change in temperature can affect a wine's aroma and balance.
The MacroAir AirVolution-D 300 Series Fan generates a powerful, yet gentle air current that creates just the right climate for optimal wine production. It also uses less energy and is maintenance-free, costing you mere pennies a day to operate. And thanks to attractive aesthetics and multiple color options, AirVolution commercial ceiling fans easily integrate into the design of your building.
Make your next vintage your best yet with the help of a MacroAir AirVolution-D Fan.
COCA-COLA OF ORLANDO
A refreshed workforce and increased productivity. Even with massive 32-foot ceiling, one MacroAir fan at their warehouse exceeds the cooling effect of three barrel fans.
SEE THE MACROAIR
DIFFERENCE
Great savings, more efficiency with direct drive technology. Get a side-by-side fan specification comparison between the leading Macroair and other conventional HVLS fans.

MacroAir's AirVolution-D Wins Product of the Year Award
MacroAir's AirVolution-D brought home the Consulting-Specifying Engineer's 2015 Product of the Year silver award in the air movement category.
Consulting-Specifying Engineer asked companies to submit their new and improved products, and readers voted. Thank you to everyone who voted for our re-invented HVLS direct-drive fan!