COMMERCIAL INDUSTRY HVLS FANS
OFFICES
Boost productivity with better airflow
OFFICES
Productivity Boost
The productivity of office workers can decrease 10% with poor ventilation and uncomfortably high temperatures. Help your employees perform their best with the high-performing MacroAir AirVolution-D 300 Series fan.
Featuring a revolutionary motor technology, this powerful fan circulates large amounts of air using 50% less energy to create a fresher, cooler working environment. It also features a 50,000-hour lifespan with zero maintenance, giving you a reliable solution that saves you money over its lifetime. Plus, it's ultra-quiet operation and color custom options allow it to blend seamlessly into any office environment.
Push productivity and lower your energy bills with AirVolution-D. It just may be the smartest business decision you make all year.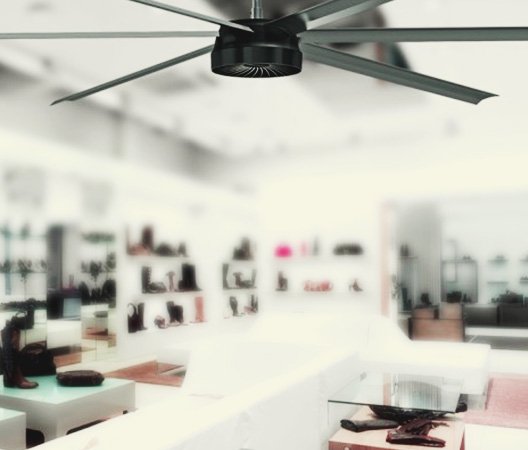 RETAIL FACILITIES SHOPPING MALLS
Keep shoppers cool with powerful ceiling fans
RETAIL FACILITIES &
SHOPPING MALLS
Retail Therapy With Commercial Ceiling Fans
When customers are comfortable, they tend to shop longer and spend more. MacroAir AirVolution-D 300 Series HVLS fans move 76% more air using 50% less energy to give your customers a better shopping experience without overcharging your utility budget.
Using a revolutionary motor design, this unique industrial fan efficiently circulates air to all corners of your space for consistent cooling. Plus, its quiet operation and custom color options allow it to blend in with the design of your store. Add to that a 50,000-hour lifespan with zero maintenance and you've got a lasting and reliable way to create happier customers.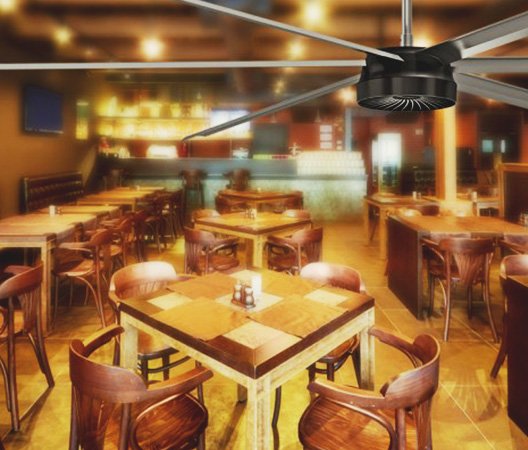 RESTAURANT, BAR & HOSPITALITY
Commercial fans improve customer comfort
RESTAURANT, BAR & HOSPITALITY
Cool Factor
A hot kitchen, warm lighting, and active servers can lead to overheated customers and high energy costs. Create a cozier atmosphere and use less electricity with a MacroAir AirVolution-D 300 Series HVLS fan.
Featuring revolutionary power and efficiency, this dynamic fan delivers a cool, gentle breeze to every corner and uses 50% less energy to operate than conventional commercial ceiling fans or HVAC systems. It's also engineered for long life and zero maintenance.
With cool, industrial styling and custom colors, they're also guaranteed to turn a few heads.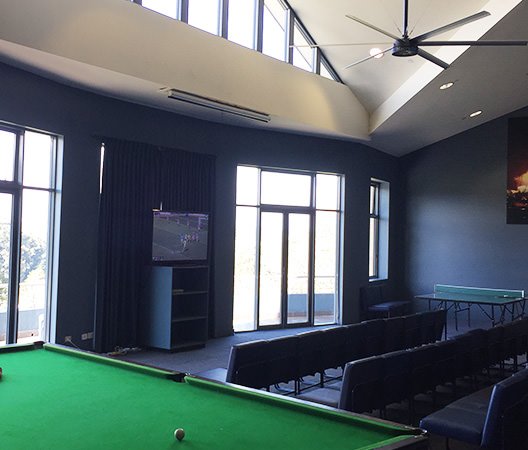 SPORTING FACILITIES & FITNESS CENTERS
HVLS fans keep air fresh for better workouts
SPORTING FACILITIES &
FITNESS CENTERS
Air Fitness
Stagnant air in fitness centers and gyms can lead to overheated athletes, out-of-control humidity and unpleasant odors. Fight back with the revolutionary MacroAir AirVolution-D 500 Series fan.
These powerful, energy-efficient ceiling fans circulate massive amounts of air throughout a space using less energy for a fresher, less humid environment that costs about $1 a day to cool. MacroAir's HVLS fans also run quietly and can be color-customized to match the look and feel of your interior.
With AirVolution-D, get the performance you want without stretching your budget.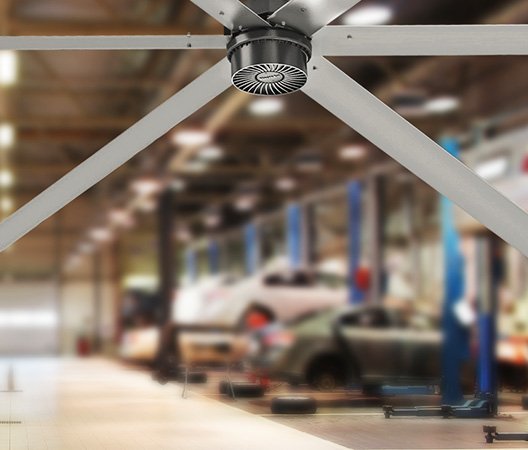 AUTO SERVICE & DEALERSHIPS
Cruise over to cooler temps
AUTO SERVICE & DEALERSHIPS
Cruise Control
Whether making repairs or making deals, a comfortable service center and showroom lead to better results. The fully loaded MacroAir AirVolution-D 300 Series fan features advanced motor technology that moves 76% more air to maximize comfort and minimize unpleasant odors like car exhaust.
Sleek in its styling, this energy-efficient fan costs just $1 a day to operate, requires zero maintenance, and is backed by The 50,000 Hour warranty. It also features smart controls that let you integrate and operate all your systems with the touch of a button.
Put comfort on cruise control with the MacroAir AirVolution-D, then sit back and enjoy the ride.
COCA-COLA OF ORLANDO
A refreshed workforce and increased productivity. Even with massive 32-foot ceiling, one MacroAir fan at their warehouse exceeds the cooling effect of three barrel fans.
SEE THE MACROAIR
DIFFERENCE
Great savings, more efficiency with direct drive technology. Get a side-by-side fan specification comparison between the leading Macroair and other conventional HVLS fans.

MacroAir's AirVolution-D Wins Product of the Year Award
MacroAir's AirVolution-D brought home the Consulting-Specifying Engineer's 2015 Product of the Year silver award in the air movement category.
Consulting-Specifying Engineer asked companies to submit their new and improved products, and readers voted. Thank you to everyone who voted for our re-invented HVLS direct-drive fan!