GOVERNMENT & EDUCATION INDUSTRY BIG FANS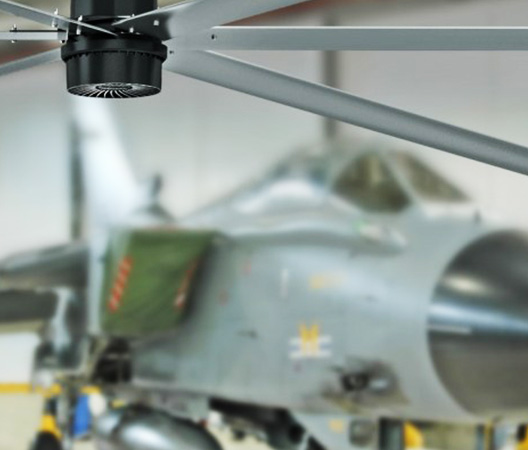 GOVERNMENT
Improve defense with cooler personnel
GOVERNMENT
Enlisted Air
Overheated aircraft hangars make it difficult to defend the country with a cool head. Combat high temperature and humidity with the MacroAir AirVolution-D 300 Series fan.
With spans up to 24 ft, this industrial-sized fan uses 50% less energy to cool even the biggest spaces while meeting the strictest safety, health and environmental regulations. Its sophisticated AirBrain also allows it to work seamlessly with existing HVAC and lighting systems for ultra efficiency.
And with zero maintenance and a guaranteed 50,000-hour lifespan, the AirVolution-D is always on active duty.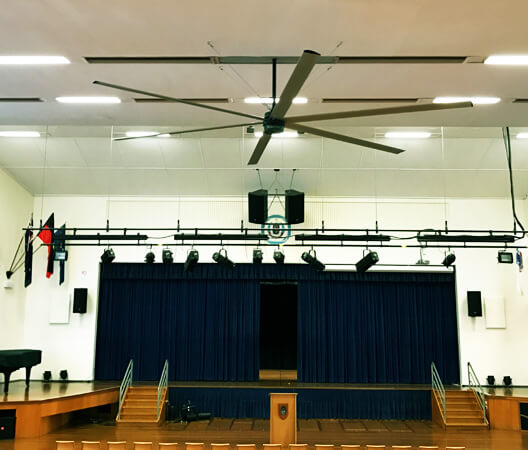 EDUCATION
Spur learning with comfortable classrooms
EDUCATION
Brain Booster
Small, stuffy classrooms filled to capacity make it hard for students and teachers to concentrate. Keep them alert and focused with a MacroAir AirVolution-D 300 Series fan.
Featuring a powerful motor that uses 50% less energy, this ultra-quiet fan moves 76% more air to cool every corner of the classroom. A sophisticated AirBrain and touch controller also let you seamlessly integrate existing HVAC and lighting systems with ease. For extra credit, this fan lasts for 50,000 hours, requires zero maintenance, and can be customized with your school colors.
Promote higher learning without breaking the school budget with AirVolution-D.
COCA-COLA OF ORLANDO
A refreshed workforce and increased productivity. Even with massive 32-foot ceiling, one MacroAir fan at their warehouse exceeds the cooling effect of three barrel fans.
SEE THE MACROAIR
DIFFERENCE
Great savings, more efficiency with direct drive technology. Get a side-by-side fan specification comparison between the leading Macroair and other conventional HVLS fans.

MacroAir's AirVolution-D Wins Product of the Year Award
MacroAir's AirVolution-D brought home the Consulting-Specifying Engineer's 2015 Product of the Year silver award in the air movement category.
Consulting-Specifying Engineer asked companies to submit their new and improved products, and readers voted. Thank you to everyone who voted for our re-invented HVLS direct-drive fan!