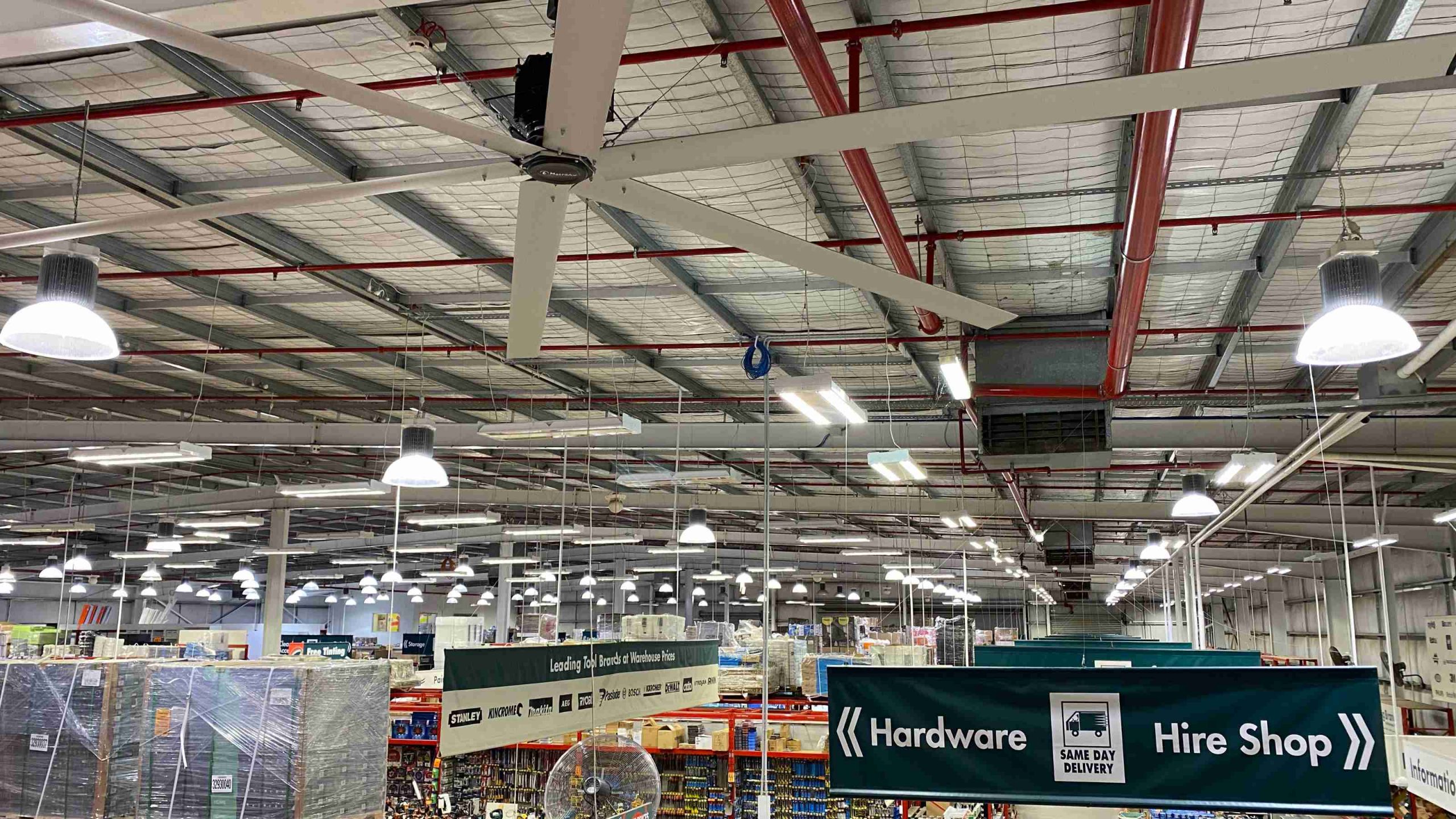 Bunnings Warehouse, Caloundra, QLD | MacroAir AVDX Fan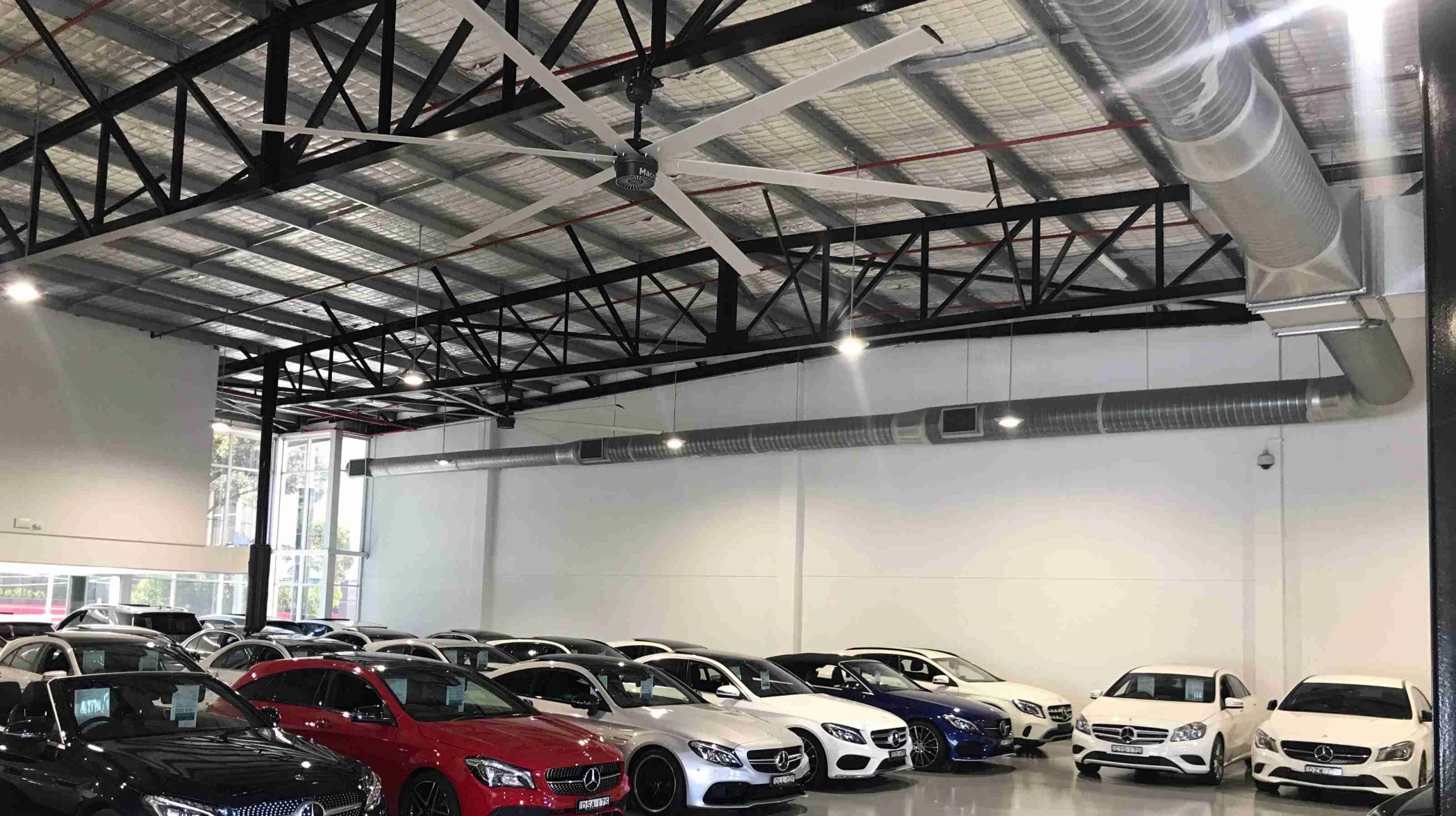 Mercedes-Benz, North Shore, NSW | MacroAir AVD 550 Fan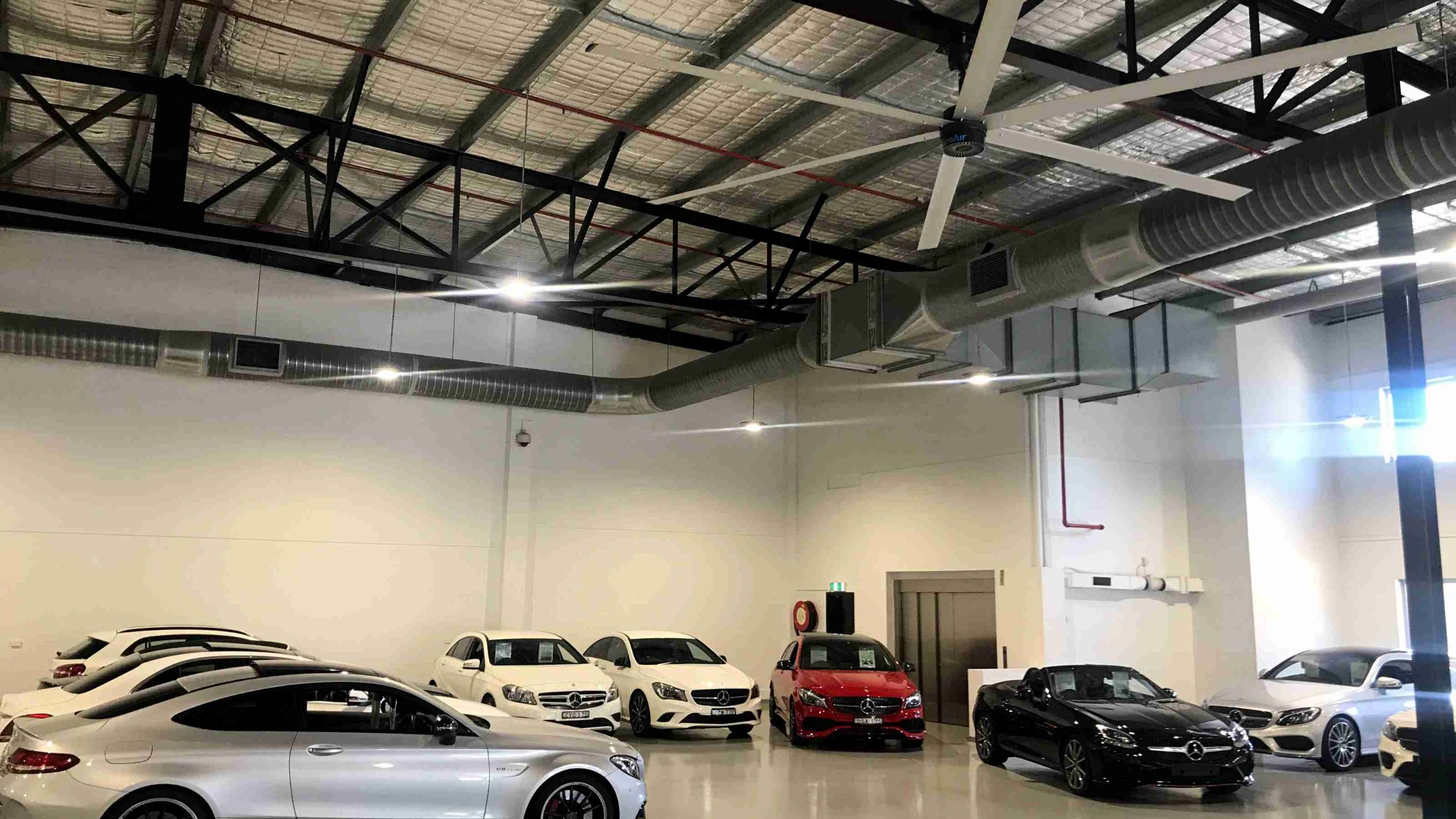 Mercedes-Benz, North Shore, NSW | MacroAir AVD 550 Fan
Macquarie Centre, NSW | MacroAir AVD 550 Fan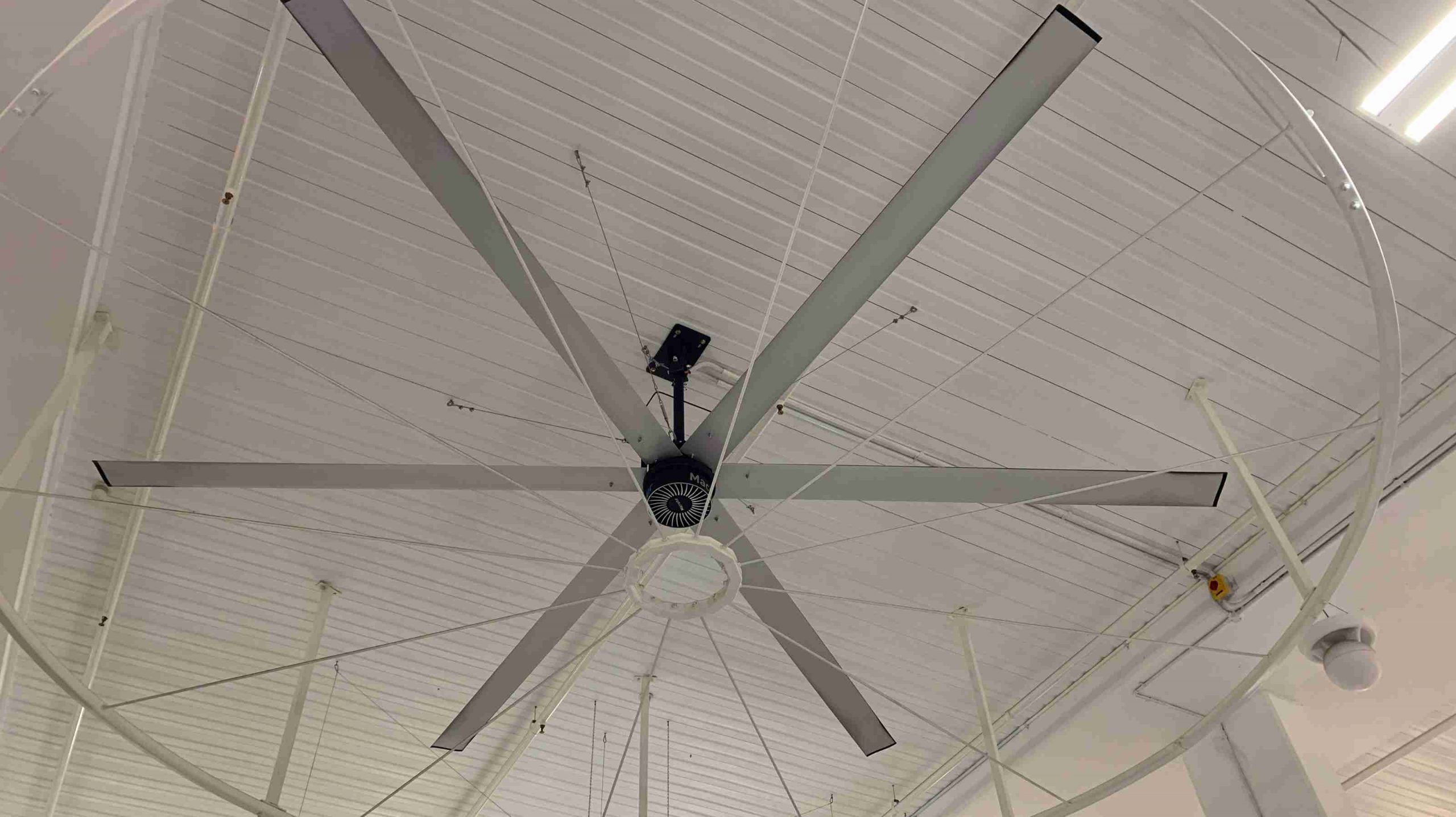 Bunnings Warehouse, Caringbah, NSW | MacroAir AVD 550 Fan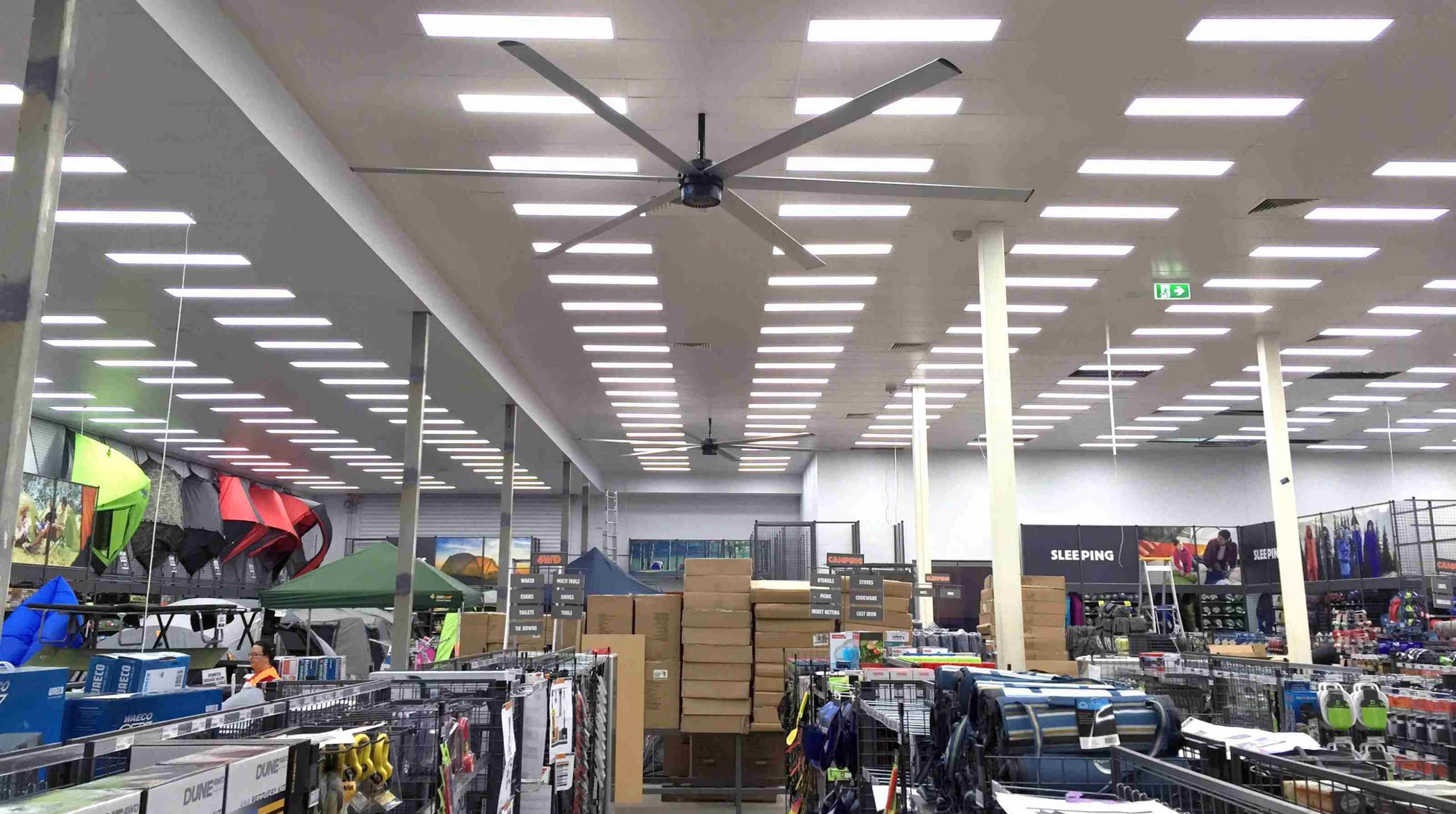 Anaconda, Rockhampton, QLD | MacroAir AVD 550 Fans
Bunnings Warehouse, South Nowra, NSW | MacroAir AVD 370 Fan
Retail
We have installed MacroAir HVLS fans in a range of retail stores across Australia. Installing large ceiling fans can help to improve air circulation  and reduce air conditioning bills making retail spaces much more pleasant to be in.
Anaconda Rockhampton and Frankston- QLD and VIC
Problem: With increasing energy prices and an increased pressure on businesses to be energy efficient, and reduce their carbon footprint, Anaconda required a solution to reduce their air conditioning energy use.
Solution: ProFan in collaboration with Pacific Ventilation Australia provided and installed 4 x MacroAir AVD 550 fans in each store. They came complete with temperature sensors and a Controller 30 that provides increased air movement and the ability for the stores to increase their AC setpoint while maintaining in-store comfort.
Results: Both stores were able to adjust their AC setpoint temperatures and reduce their AC energy use while maintaining customer comfort within the stores.
Mercedes Benz – North Shore Sydney NSW
Problem: The newly renovated used car showroom at North shore Mercedes Benz at Chatswood was a large indoor warehouse style showroom. Cooling the space that can have people in it all the time would have been extremely costly to install and run.
Solution: ProFan supplied and installed 2 x MacroAir AVD 550 fans to provide air movement and cooling to the space which is far more economical to run once installed
Results: A much cooler and comfortable space to browse the many luxury cars on display meaning customers stay longer.
Bunnings McGraths Hill- Western Sydney NSW
Problem: McGraths Hill Bunnings is located in north western Sydney close to Windsor. Windsor often tops the scales for temperature in NSW during the peak of summer. With no other cooling in the store, they relied on small wall mounted fans in aisles to provide air movement solutions.
Solution: ProFan Supplied and installed 7 x MacroAir AVD 550 fans that were strategically placed near areas where shoppers congregate or spend longer times browsing. The 7 fans were coupled with a Controller 30 to provide scheduling and maximum control by the store managers.
Results: Far greater air movement to the store and increased staff and shopper comfort.
Other Bunnings stores Profan have supplied and installed fans to:
Kirrawee NSW
North Penrith NSW
Caringbah NSW
East gardens NSW
Greenacre NSW
Balgowlah NSW
Grafton NSW
South Nowra NSW
Pymble NSW
North Mackay QLD
Paget QLD
Tweed Heads NSW
Byron Bay NSW
Campbelltown NSW
Mittagong NSW

MacroAir's AirVolution-D Wins Product of the Year Award
MacroAir's AirVolution-D brought home the Consulting-Specifying Engineer's 2015 Product of the Year silver award in the air movement category.
Consulting-Specifying Engineer asked companies to submit their new and improved products, and readers voted. Thank you to everyone who voted for our re-invented HVLS direct-drive fan!